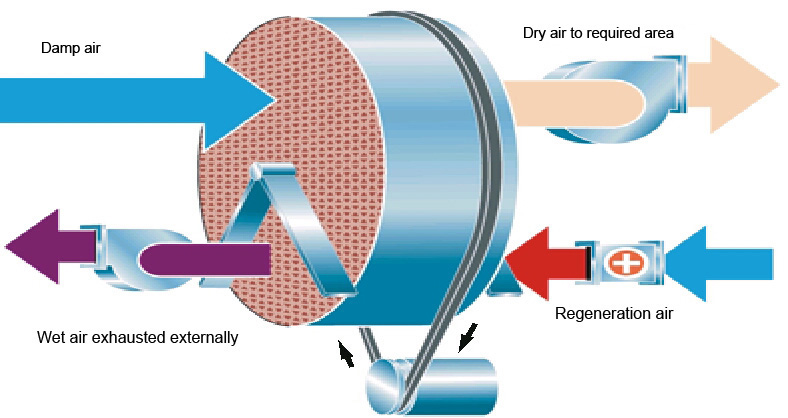 船舶相对湿度控制和快速干燥设备让美国赛艇保持最佳航行性能
Overnight storage between races is unavoidable, and moisture-related performance deficiencies are of primary concern. Equally, during off-season refurbishment, the use of dry air in repair and construction of composites reduces the risk of faults. Conditions of low relative humidity (RH) can be used to deter hull condensation, weight increases, mould & mildew growth, corrosion and deterioration of electronics, epoxy glues and composite materials.

Speed, strength, and weight are the concerns of Team Dennis Conner as it builds a competitive America's Cup Yacht, so when construction begins, humidity control quickly became key factors for the world's most prestigious boat. Mick Harvey, Yacht Construction Manager and the man responsible for the world's fastest International America's Cup Class Yacht says, "We have 20 craftsmen forming the hull by laminating sheets of carbon fiber fabric over a mould sized to the inside dimensions of the boat. This exacting process is nearly impossible when the humidity is allowed to rise out of control".
"It's surprising how much water gets into the boat when we sail her," said Harvey. "But I was absolutely amazed how fast the Munters dehumidifiers could dry out the boat once we brought her to the dock. When we are racing, we want the lightest boat possible, and the highest performance from the sails. Drying with the Munters dehumidifiers gives us that edge."
Weight Reduction
As dry air has a low vapour pressure, it is able to pick up surface moisture without heating, creating considerable weight reduction. Use of a Munters dehumidifier by Americas cup yachts has achieved results like 20kg of moisture removal overnight.
Condensation Prevention
Hull condensation occurs when the dewpoint of the air is higher than the hull or water temperature. The use of dry air, when supplied at a dewpoint below hull temperature (or water), will avoid condensation.
Mould Prevention
A relative humidity below 50% RH prevents the acceleration of mould growth and its resulting musty odour. Once mould presents itself, mere cleaning will not remove mould spores, and nothing short of removal of the textiles and cleaning with ammonia or chlorine will prevent it reappearing. Dry air reduces the amount of internal refurbishment; and contributes to healthier cabin conditions.
Corrosion Prevention
Maintenance of a relative humidity below 50% prevents corrosion and prolongs life of metal components.

Electronic Failure Avoidance
Dry air can prevent the prime corrosion of circuit cards, edge connectors and costly metal parts. Electronics are especially sensitive to corrosion because very little metal is involved, and there need only be a few microns of corrosion before the metal has gone and the component fails completely. Below 50% RH, air can increase Mean Time Between Failure MTBF on avionics from 7hr to 22 and extends maintenance intervals to 4 years.
Dry Air for Composite Structures
In the production and repair of composites, humidity parameters are important if faults are to be avoided. The RAF repair wings and store helicopter composites under humidity controlled conditions, using Munters dehumidifiers at 45% RH.
Timber Joining
To maintain constant moisture content in timber when surface treatment is removed, a controlled relative humidity must be maintained to avoid expansion and contraction of the wood. Excessive moisture may cause deterioration; humidity control needs to be undertaken over an extended period.
Osmosis
Excessive moisture in fibreglass hulls creates osmosis. The exposure of the fibres to warm dry air assists in the capillary action of the moisture to the dryer outer surface. Dehumidification avoids fibreglass distortion.
Preservation of electronics: <35% RH

Mould prevention: <50% RH

Corrosion: 35-50% RH

Epoxy glue mixing: 20C 45-50% RH

Composite fabrications: 35-60% RH

Timber Joining: 50% RH

Osmosis: Dry and Warm