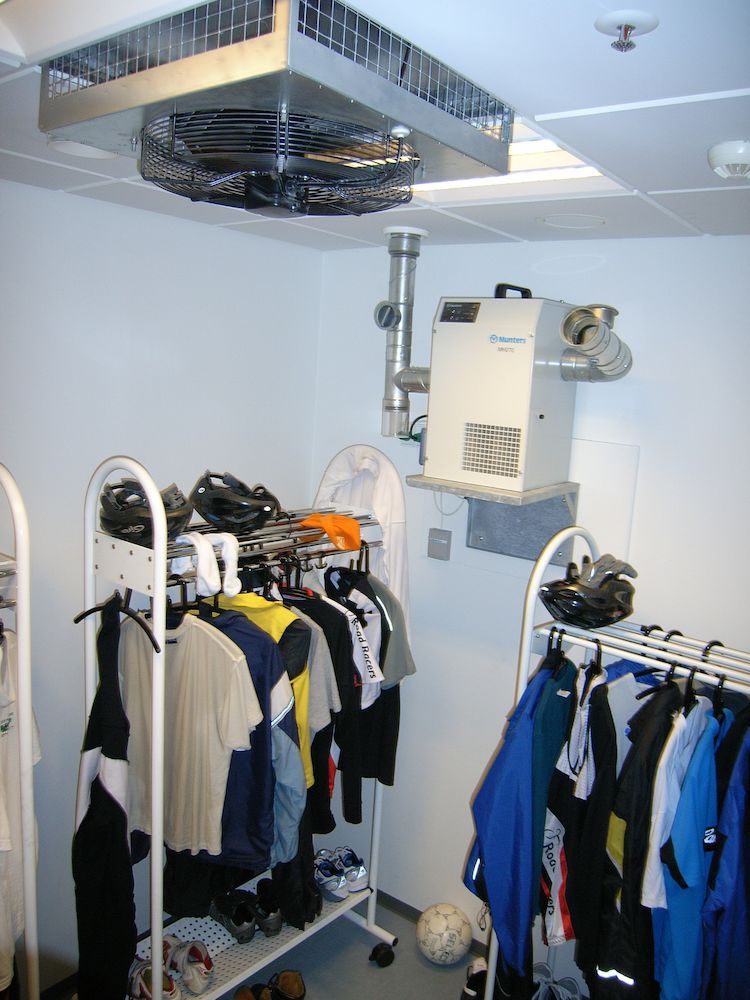 军用民用烘干房靠循环风机和吸附式干燥机让衣物除湿快速节能
Both military and civilian drying rooms can save a lot of money by drying clothes and uniforms by Desiccant Dehumidification
By dehumidifying the drying room, heating can be completely avoided since Munters' sorption-dehumidifying also works at high capacity in unheated premises too.

The theory behind clothes-drying

In order to dry clothes, a difference in steam pressure must be created between the drying air and the clothes; the bigger the difference in steam pressure – the shorter the drying time. In sorption dehumidification, this difference is created by supplying dry air with a very low steam pressure = low water content.

The method creates drying conditions equivalent to a good, dry summer day with light wind, in which the clothing dries outdoors in record time.

With Munters' drying room solution, a circulation ventilator is used instead of wind. This promotes the release of dampness from the cloth to the air, from which the dehumidifier them removes the dampness. This method further shortens the drying time.

When drying by means of heat or condensation-dehumidification, air temperature is increased and a high steam pressure is created. This high pressure creates a risk of moisture absorption in the construction of the building. With its low steam pressure, sorption dehumidification helps to prevent such damage to the building.

Military and civilian areas of use

The Danish military was among the first in Denmark to benefit from dehumidification for the drying of equipment and clothes. The military also has a large drying room where diver's clothes, rescue clothing etc. is dried in the shortest possible time at the lowest possible cost. The commandos and frogman corps as well as various flying station and fire extinguishing personnel use the Munters' method in 50-60 military drying rooms.

The solution is also becoming more and more widespread in civilian life where many companies have drying rooms for their employees. This applies not only to police stations etc., where employees change uniforms, but also to employees that cycle to and from work and use bathing and changing facilities with well-functioning drying facilities. Oticon, Aalborg Portland and others currently have changing rooms for employees in which the Munters' solution ensures fast and efficient drying of clothes and towels.

The solution is also used in housing associations with shared drying rooms. The clothes dry much faster than previously, so that the "changeover" time is shorter and more people can dry clothes. It is also more pleasant to spend time in the drying room as it no longer feels tropical with both high temperatures and air-humidity. The energy costs are also drastically lower for sorption-dehumidification in comparison with heating.