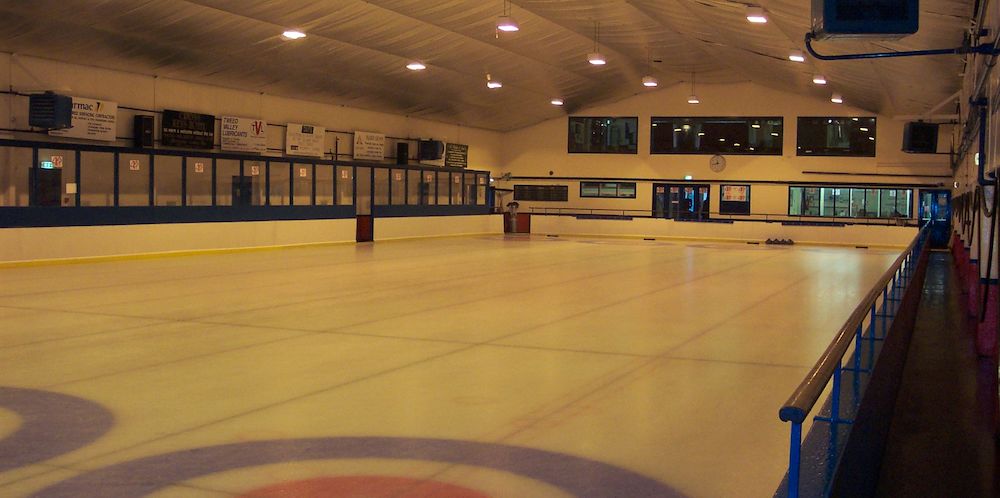 Solving humidity issues at ice rink
Humidity causes fog, condensation, mildrew, odours and rust. Munters desiccant dehumidification systems remove moisture from the air and eliminate these problems.
The challenge of creating a perfect climate
The challenge of creating an optimal climate in ice rinks is related to the difference in out- and indoor temperatures and humidity as well as the humidity load from the spectators.

Condensation is a well known problem that creates problems like damage on building structures, fog over the ice and uneven and wet ice surface. Furthermore, a high relative humidity combined with the low temperature is very uncomfortable and unhealthy for the skaters. For a comfortable climate without any condensation problems the relative humidity should be kept at max. 60 %RH, which is normally impossible by conventional techniques like refrigerant dehumidification.
Energy efficiency was important
Most of Swedens more than 300 ice rinks and a further few hundred worldwide are equipped with dehumidification systems from Munters, creating a comfortable climate for athletes and audiences.

Munters MCD desiccant dehumidifiers are perfectly designed for creating an optimal climate for both athletes and spectators, keeping the dew point in the air as close to the ice surface temperature as possible. In Ishal two connected ice rinks are kept dry and healthy by Munters dehumidifiers. A MCD155 handles the air in the 144.000m3 ice hockey arena whilst a MXT500 handles the 42,900 m3 ice rink.

Munters equipment was chosen because of the low energy consumption. The excellent energy efficiency is mainly related to an external energy recovery purge that reduces the need of heat supplied for regeneration of the rotor. This is done by re-using the heat from the desiccant wheel (rotor). A continuously variable control system adds even more savings. Excess heat from an existing chiller is used as well for heating of the regeneration air stream.

The combination of an existing ventilation system and the new desiccant dehumidifiers from Munters now prevents the well known humidity related problems and both the audience and athletes enjoy the improved and healthy climate.s in 2004 to research the possibility of adding desiccant dehumidification to their NHL venue.

Enhances Indoor Air quality
Munters helps increase the amount of ventilation air in a building as required by ASHRAE and international building codes, thus improving arena indoor air quality. With a dry arena, there is no cold roof condensation to drip down on the collars of spectators. The cold, damp experience of the past is gone.

Lowers Energy Costs
Because Munters systems eliminates moisture build up on the ice, surface condensation no longer freezes through several inches of ice. The refrigeration system will therefore run at its optimum efficiency, saving thousands in energy costs.

Improves Ice Quality
Once, outdoor weather conditions controlled the quality of indoor ice. Now Munters systems create a winter-like humidity any time of the year, so skaters enjoy optimal ice skating conditions even during warmer seasons. With no excess humidity to condense on the rink, puddles don't form, so skaters stay dry and comfortable. Without condensation dripping from roof supports, no mushrooms form on the ice, so resurfacing requirements are reduced.

Avoid Structural Decay
Arena operators often repaint roofing, ceiling supports and even entire roof systems because of condensed moisture leading to rot, corrosion, and decay. Munters system eliminates these costly maintenance problems.

Eliminates Musty Odours
High relative humidity's and condensation cause unpleasant odours that are annoying and uncomfortable for skaters and spectators. Munters system dehumidifies the air, promoting a healthy, fresh indoor environment that turns complaints into compliments.
Spectators and skaters enjoy the warm dry air from Munters systems much more than the cold, standard air blown into arenas by ineffective cooling dehumidifiers systems.

Fast recovery from resurfacing.
Since air is dry, the ice recovers quickly after resurfacing operations, so there's more skating and less waiting.

Munters Experience
With more than 40 years experience in dehumidifying skating, curling and bandy rinks we have over 400+ installations worldwide. Munters back up and support is available behind each installation.

Our engineers survey your arena and recommend the appropriate dehumidifier, layout to meet the unique requirements of each building.
Operations directors wanting to dramatically reduce energy consumption whilst still provide the best ice need look no further than Munters, whose energy saving technology reduces operating costs even further.

Munters systems are not so secret, so far Munters has delivered more than 300,000 systems worldwide. Also because the units had to work longer to re-establish set-point temperatures with each cycle, the cost of electricity was greater than it could have been using a more efficient system.